Sprinkled with Gitter!
For some reason, doing a "sweet, softy" blog for Leah feels like putting a man in a Hello Kitty costume...but if she prefers drag, I will give her drag. Here is the header...
---------------P E A P I E S - H O M E / M A I N / R E C E N T ---------------
The Office
I love. Thanks to Miss Roberta I didn't miss it. The boss is HIGHlarious...he reminds me sorta of Lumpy at Seraphein Beyn. Old world tring to find his way with this new whipper snapper world. Lumpy always uses colorful phrases like ...colder than a, stupider than a, dumber than a..."those boys in Yuba Shity (City) are dumber than a..." (with a sort of faux sothern twang here) He said one recently that I told myself "write that down" and not sure if I did or not, but wish I did.

UPDATE- just remembered a classic Lumpy metaphor...about hot Sacramento..."it's hotter than GOOSE PISS" see what I mean?
---------------P E A P I E S - H O M E / M A I N / R E C E N T ---------------
Silly boy
Can't resist silly Riley...being "Carlton" from the Fresh Prince of Bel Air (reruns on some kid network!)
it's the hiked up shorts thing!
UPDATE- uhhmmmm "AIRE" that is...drat is me
---------------P E A P I E S - H O M E / M A I N / R E C E N T ---------------
Needle in a Hay Stack
I've been meaning to take my camera to the "Goodwill Dump" I live at lately (when I am not working on hideous jobs) to document the bizarre loveliness of it all...but since I forgot you can hear about the silly little treasure I found today instead...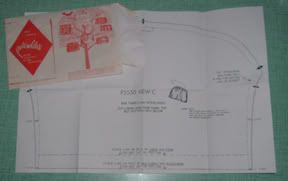 It is a "PurseNalities" pattern (3 purse patterns in all) for a metal clasp style purse..."Enter the wonderful world of pursemaking". Wow, if only I were a good seamstress imagine the wonderful purses I could make...it does appear to proprietary ( like the pursenalities people made the pattern for their p.nalaity clasp) but we will see.
For now I just love that I have it....to file away with all the other vintage patterns I have that I do nothing with.
---------------P E A P I E S - H O M E / M A I N / R E C E N T ---------------
Bootie Call
Since the most hidious job on the universe is FINALLY, FINALLY over I can get back to booties.
I don't know what it is about me that desires all new material everytime I become obsessed with a new project . Booties don't take all that much yarn and I have bucket loads of yarn from about 10 started, never finished knitted projects but I am chompping at the bit to go out and buy new, better yarn. This time I slowed down and forced myself to get through a few hundred yards of what I have before spending a fortune on new stuff. And booties...lots and lots of booties. Here are just a few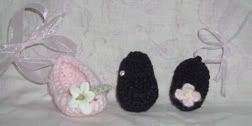 Two are little ballet slippers, and one a very simple mary jane with pearl button...and I am adorning with vintagey flowers ( and crochet flowers and leafs too.
PS. tiny black booties are really, really hard to photograph especially with a 4 second delay Digital! Blurrrrry
---------------P E A P I E S - H O M E / M A I N / R E C E N T ---------------
Test post
Please put a comment if you do or don't see this.
---------------P E A P I E S - H O M E / M A I N / R E C E N T ---------------
Real Shopping! (at a Department Store!)
I took Riley and his friend to see a movie...they had wanted to see "Guess Who" but for some "Amy" reason I looked at the movie time for "Be Cool" at 2:30, so when we get to the theatre they are scratching their heads and "Guess Who" started at 1:50. So now they are going to see a movie they don't even know about AND frankly is not all that appropriate for their age, AND one is not my child, AND I had planned to spend 2 luxurious hours shopping with the Macy's gift certificate Mom and Dad sent for my birthday. Do I error on the side of responsibility and plan to do it another day? Or do I just feign ignorance as to the movie content and send them in anyways?????
So, the first thing I did in Macy's was try on 8 bathing suits. Was I shopping for a bathing suit? NO, but since I am such a thrift store addict (much to my Ann Taylor slash SAX Mother's chagrine) I breeze by the "IN" fashion section and go right to the non-thrift buying type sections, and well hey, I'm curious how these "new" styles look on ( the whole full on the top, flowing on the bottom tankini, which on first blush look super maternity to me) By the way, why do department store bathing suits cost MORE than a f'ing prom dress? $45 for bottoms $60 for tops?
So for reasons explained later, I realize I know nothing about my body size when it comes to under garment bathing suit stuff. Each one I selected my boobs were either ridiculously crunched up together spilling out (definitely not Neighborhood swim club acceptable) or the weight of my bongos pulled the sweet spaghetti strap top down to my belly button (with boob pockets straining to sit in their originally intended position, 2 inches above my aerola). I selected one for the pretty pattern but was SURE, SURE that the 3 inch thick ram rod maidenform built in would make me appear as if I had 40 triple R's. Guess what? It was the best fit...depressing is the realization that at only 35 I must buy a gramma gurtle bathing suit top to look my best. What is that?
My main intention at Macys was to buy a bra (definitely NOT a thrift store purchase when you have pineapples like me, but believe me I would if I could). I recently got
What Not to Wear
from the library by the 2 English women (US has now copied on TLC which I think too cheecky and rude). I studied the under garment section and thought al-righty I will take your suggestion and buy a worthy bra instead of a darling, cute, lacy demi. AFTER the bathing suit experience I was obviously more mentally prepared to shop for a more "useful" bra than a Victoria Secret "come Fuck Me" but JEEEZZZZ...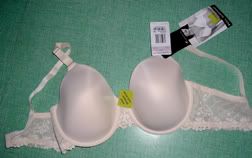 the cups look like FOOTBALL helmets for gods sakes! I ignored all the "pretty" stuff and went straight for the packing section, and saw the "add shape, not size" bras...gulp, do I really fit these???? Short answer, YES. After 2 or 3, one actually fit so well there was no bulging fat coming out of my arm pit! ...36 D.
So I think the test is with shirt on ( like the book demonstrates)....WOW!!!!!! Perk and FORM. BOOB JOB LOOK! Could it be? So I ask the sales lady to take a look and tell me---is this the perfect fit??? She measures...yes good fit, you are like a 36 D or a 34 double d....WHAT? 34????? Words I have never heard in my whole life---34. That's like petite to me! So I race, out to grab a 34 (2xd) and a few 36 d's because the voice in my head (which I most usually ignore) says get the 36's. Long story short the 34 fit, too snug, and the nagging reality is, if I put on a few it will feel and look like a rubber-band stretched around me like 15 times. For the first time I have bought the most unimpressive in the bedroom but shapely and age defying bra ever! Rob knows the truth, the world doesn't need to!
Next stop thongs. Not underwear kind, but feet kind! I wanted some cute, 2" er's , but everyday cheapy thongs. So these, reg. $16 with 25% off worked no?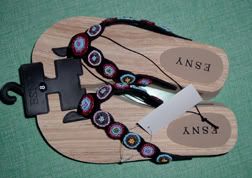 So, after getting my bra and thongs and seeing my neighbor with her poodle "Cupcake"
--(funny side story here, neighbor is a 3rd grade teacher in Roseville, and as we are strolling around Macy's together a group of people approach a little too intrigued with Cupcake. When heavily tatooed dad asks to pet Cupcake with the whole party including little girl, teacher realizes after uncomfortable amount of time that little girl is one of her students, but draws a sudden blank on students name. HEH)----
I am sorta dreaming and wondering about the make up. I am always so visually drawn to
Benefit
and the Benefit catalog. Lauren had gotten me the BeneTINT and I loved it.
So this ultra Benefiter sucks me into a chair with "sit down, lets play". She is the best sales person, because she "GETS" that I do not wear and don't like to apply make up...hey, it could have been an off day. She applied "You Rebel" tinted moisturizer with spf (Can you believe it, moisturizer, foundation and age defing sunblock ALL IN 1---so me), then my coveted BeneTINT and then Moon Beam to my cheek bone up around outer eye (not under eye) ....Whole new me ! Moon Beam has iridescence to it ( sales lady says no glitter ON FACE if over 15) that fakes the appearance of MOISTUIZERIZATION! She said my olive skin did work beautifully with the Benetint. Sale pitch? Even tough I loved it I thought sales pitch, but fair skin Lauren attests (as much as she wished it, didn't work).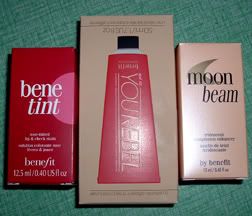 And oh yeah, the boys sorta liked the movie...this old enough to sit and watch a movie alone thing is pretty cool, ...way cool if Mom has a Macy's Gift Card.
PS. the point is everything is a trade off...big boobs can really suck too! They are like entities with heart beats of their own! Imagine breast feeding. It's like 3 seperate beings sucking up all of the same ozone!
---------------P E A P I E S - H O M E / M A I N / R E C E N T ---------------
DUH
I was so wrong...what a TV night, Kings vs. Mavericks followed by THE OFFICE. YEEHAW!
---------------P E A P I E S - H O M E / M A I N / R E C E N T ---------------
Darn I missed the The Office
The newest obsession in the pea pie main pod is Fox's comedy
Arrested Development
which my cousin turned me on to. It is the funniest, quirkiest, HIGHlarious show I've seen in a long time. If you haven't watched it, I highly recommend watching it 8:30 Sunday on Fox AND if everything looks boring at blockbuster rent the Arrested Development first season so you too can be obsessed and then in turn stop the rumored threat of being canceled. (I am convinced that if it were extended to an hour more people would catch on.)
Which really makes me mad that I missed the premier of NBC's new show
The Office
Just the previews had me peeing my pants (the same preview, over and over) and I was so excited to have another favorite show. It looks to be a sitcom like version of the movie Office Space (which is another of my favs), sort of like Arrested Development reminds me of a combo of LarryD's HBO Curb Your Enthusiasm and the movie Orange County.
If anyone watched it let me know how it was. Shoot, I missed it.
---------------P E A P I E S - H O M E / M A I N / R E C E N T ---------------
10:00 O'Clock Surprise
Have you every met someone in life that left you feeling god sprinkled something extra on them...like tabasco? That's my friend Leah. She called at 10 last night, hadn't talked on the phone for many months, sexy breatheless voice of ebullient ENERGY and QUESTIONS as if not a second had passed. That is what I love, love, love about her, and wish I had just 1 ounce of her (just 1) of her innate self confidence and self assuredness.
So she is the web savvy gal now and so I started a "Blog Skin" for her because I can't wait for her to start blogging. Her handle is of course leahlyons.blogspot.com...I am too lazy to "photo bucket" the screen shot , something Cindy and I comiserated about today, but here is the general idea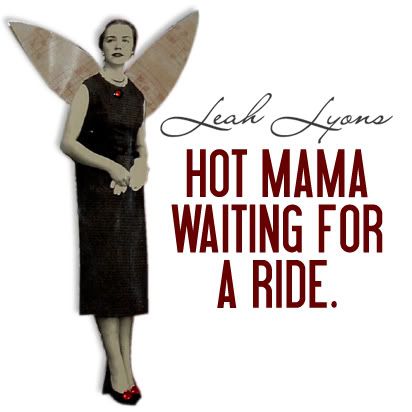 I did a collage a month or two ago and when I was starting her blog skin I downloaded a few images and when I went to open them the thumbnail of the collage popped in the window and a spark went off. The women sorta looks like Leah ( a little) and I thought it matched her pretty well. I called the collage "Hot Mama Waiting for a Ride" and thought that was a cute blog name too.
---------------P E A P I E S - H O M E / M A I N / R E C E N T ---------------
Okay...So Not there
Obviously didn't make the Stich-n-Bitch book signing that was this evening or last...whatever. Another wish dashed.
---------------P E A P I E S - H O M E / M A I N / R E C E N T ---------------
Sweety's Confections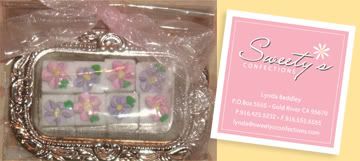 My friend
Lynda Baddley
has started her own company making custom cakes, and this wonderful idea....Beautifully adorned sugar cubes that melt delightfully away in your coffee, tea or lemonade! They just add that sweet little touch to a wedding, tea party, birthday party, Easter, enter any occassion ________here. And they make lovely parting gifts and favors. Sweety's Confections will have a website soon, but in the meantime you can click on her name above to inquire. I believe she will do "custom" cubes if you have an idea or theme. PS. I did the logo.
---------------P E A P I E S - H O M E / M A I N / R E C E N T ---------------
Pea Pod Bootie
Here it is...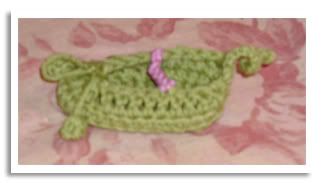 Now on to number 2!
---------------P E A P I E S - H O M E / M A I N / R E C E N T ---------------
Newborn Mary Janes
I made Mary Jane booties and a hat for Lauren's new baby.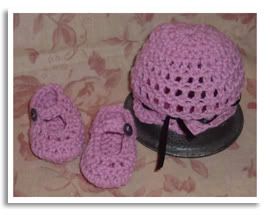 and made shrinky dink buttons to match. Pretty cute.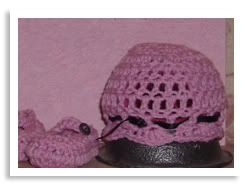 Here is a better view of the hat. I am designing a pair of peapod booties right now, so I will post those when I get them done, am this design will be for sale!
---------------P E A P I E S - H O M E / M A I N / R E C E N T ---------------
The AA-EEND!
Mike sent this link to
The End of the World
which I thought the French/France part very funny, but I couldn't understand the rest. Rather like every 4th word I understood. Am I just lame? or did it go from english, to other f'ing languages, back to japenglish, then to a snippet of english again? I turned up the volume. Is it me? Let me know
UPDATE: yes , overall getting past my translation diffuculties IT IS FUNNY
UPDATE:2: Not to be a killjoy, but
Center for Security Poilicy
has a far more articulate disertation of our national security policy. I highly reccomed it to people wavering on "Operation Iraqi FREEDOM"
---------------P E A P I E S - H O M E / M A I N / R E C E N T ---------------
The biggest Drag
about this is my sloppy trying. Golly, I have to -post- read, see speeling errors- repost and what do you know...another typo. I really wish they (the blog spot people) put a usable MAC interface together. If I were to post on Rob/Riley's computer life would be bloggy heaven.
---------------P E A P I E S - H O M E / M A I N / R E C E N T ---------------
Spring, is so in the air
You Grow Girl
is the cutest dang site. All kinds of sweet little goodness for gardeners. Like...
Handy Helpers:
Cheap Plant Tags: I found a good use for old plastic levelor blinds, I cut them up into smaller pieces with an angle on one end and use them as plant markers for seed trays and for markers in the garden. Tip provided by Anne
and things like the Jack-O-Planner, helping your to pre plan your pumpkin face (to name a few)
I am going to add it to my perma links too.
---------------P E A P I E S - H O M E / M A I N / R E C E N T ---------------
Japanese Stuff from Mom
My mom had a trip to Japan and sent Riley and I some things. Me, rice paper and silk clovers (which she has requested some sorta of framable using such) and Riley an art journal book and colored pencils. I am going to test the colored pencils (to see if they are more vibrant than our off the self and see if they are more prisma color like. I love the colors they come with so much better than ours. And Riley's journal is so cool looking, with the brown ribbon tie.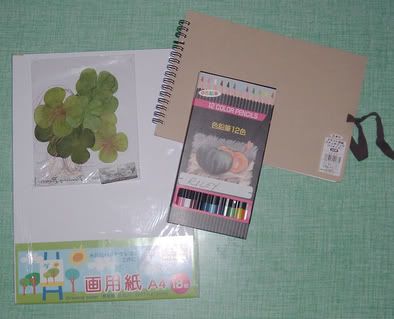 ---------------P E A P I E S - H O M E / M A I N / R E C E N T ---------------
Fun Time
I used to make these hippy like bead woven earrings when I worked at The Bead Shop in Laguna Beach. I can whip these suckers out in no time. So I thougtht I would make some using more pleasing colors, the colors of the spring season pink and limey green!
And Riley and I had a shrinky dink party. He made some really funny characters and I made jewelry items and buttons.
---------------P E A P I E S - H O M E / M A I N / R E C E N T ---------------
Cindy-capades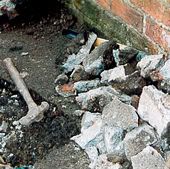 Cindy has been busy. Cindy said:
I've gone from drive-by searches for broken concrete chunks in ditches and yards to Krista's generous retaining wall blocks to...hey, i know, i'll post Wanted: broken concrete, on every local on-line page, ie craigslist sacramento, pennysaverusasacramento, freecyclerssacramento, sacbeeclassifieds, goldriveronline, sunriverneighbors, etc. Score. Tons of free concrete out there. then i drove literally $50 bucks out of my suburban aircraft carrier all over town antelope to elk grove. i picked up 15 square pavers and 20 homemade stepping stones. i spend all my time on the phone and net returning calls and checkin email for somebody wanting to give me their free cement. then, I realize my patio still isn't built because im only able to build a patio with square regular shapes. I make up storys to tell all my new contacts about why i'm appreciative but no longer want their free cement. i send out a new Wanted: bricks or square pavers. not one response. Also i'm gettin dissed by the moderators for asking for too much free stuff too often and they are refusing to post my requests now. remember i have piles of stuff/shit now in my front driveway, but nothing for patio construction. sooooooooo i decide to follow thru and use what i have so far. I build a retaining wall behind the pool pump (important, prominent, visual location for yard beautification, huh), and then lay stepping stones in the "entry" area of where my patio will be. done. check email and all free net spots. still no pavers. so i lay anti weed emergent. then bark dust in all ugly dirt areas. there is an ad in the bee for 200 free grey bricks but they are in meadowview.

then i call tim and tell him that i am sleep deprived and he'll need to pick up bella as my heart is pounding, and my eyes are buggin out. Then I tell him I want pizza so he orders one and I lounge in bed from 4pm until I fall asleep watching forensic files. 2:30 wide awake. Thanks for sending your blog. If this keeps up I'll be your most faithful viewer. Now I must search out pavers in all the aforementioned free spots. My mantra is: I will be patient, I won't spring the $40 bucks and buy them at lowes.

You feel like loading bricks with me in drive-by-shooting meadowview? I don't need help really, but I should take an eyewitness for the prosecution.

You gotta check out this site on ebay. I'll send it to ya. a women in elk grove "ingrid" is selling web templates she creates. everyone that buys one and uses it for their seller auctions also advertises her work. She has a web site too. it is: www.cherrytreegraphics.com. i want to send her the flea you made and have her do a template for me. $40 is good huh? what do you think? love cin


---------------P E A P I E S - H O M E / M A I N / R E C E N T ---------------
Balloon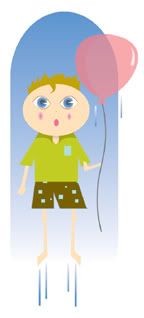 ---------------P E A P I E S - H O M E / M A I N / R E C E N T ---------------
You Have Got to see this guys blog!!!
This guy
has a pretty super blog, and it helps that he is the 2nd but equal love of my life. Click on the post heading to leave a comment. He will love it.
---------------P E A P I E S - H O M E / M A I N / R E C E N T ---------------
Definition of Insanity
As if I don't have 1000 things to do, I am sorting seed beads. I'm thinking by the year 2010 I may be done.
---------------P E A P I E S - H O M E / M A I N / R E C E N T ---------------
Sonoma Field Trip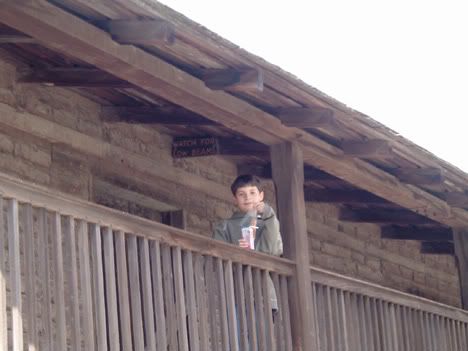 Putting the digital camera to use finally! Riley's field trip to the Sonoma Mission complete with scavenger hunt in chi chi stores. Smart teacher. It was so beautiful there today. I drove 3 boys there, and 4 back. Good thing I brought the fabreeze. Sheeesh!
Note to self: do not allow walkie talkies in car on field trip, boys talk on them constantly, consequently I get off on wrong exits distracted! So at about -oh I don't know 12pm, many a parent suddenly took notice of all of the lovely wine tasting spots available! Hmm, wonder why...I highly reccomend the walking trip out to see Vallejo's house, because the walk is pretty and the house is darling.
Here is his garage/barn. Pretty huh?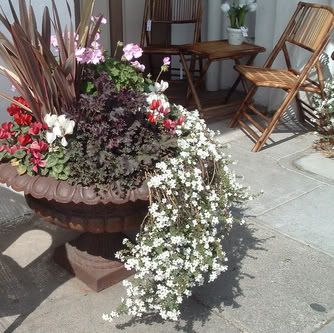 The flowers are blooming! Lots of mom's (with girls of course) stayed late to shop.
UPDATE-Gee Whiz, do I need to slow down on the exclamations or what? Also, very important for future reading, the mac versionof blogger does not have a spell check feature, which in my case (and yours for that matter) is very unfortunate.
---------------P E A P I E S - H O M E / M A I N / R E C E N T ---------------
Chloe has a baby sister!
You can email
Keith, Lauren and Clhoe
congratulations on new baby girl (name not set in stone yet) but I'm thrilled for them. Leah refers to them as "Auerbach Party of Four". She had her yesterday morning at 8:30, March 15th, 2005! As soon as they send me pictures I will post them. Meanwhile I am trying to whip up some booties and a target card to send.
UPDATE: Crorina Grace, goes good with Clhoe don't you think?
---------------P E A P I E S - H O M E / M A I N / R E C E N T ---------------
He loves me?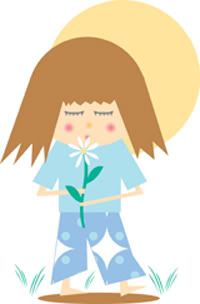 My illustration of the week! Any captions?
----PLEASE, PLEASE, PLEASE...click, click MAIN if you do actually come here from Angry Chicken! I promise I am getting my blog back to order!
---------------P E A P I E S - H O M E / M A I N / R E C E N T ---------------
Stich-N-Bitch coming to Sac
The author
of stich'n bitch nation will be at Rumplestilskins - 1021 R Steert - 8:30pm, Tuesday March 22nd. I am there!!!!
---------------P E A P I E S - H O M E / M A I N / R E C E N T ---------------