Have you every met someone in life that left you feeling god sprinkled something extra on them...like tabasco? That's my friend Leah. She called at 10 last night, hadn't talked on the phone for many months, sexy breatheless voice of ebullient ENERGY and QUESTIONS as if not a second had passed. That is what I love, love, love about her, and wish I had just 1 ounce of her (just 1) of her innate self confidence and self assuredness.
So she is the web savvy gal now and so I started a "Blog Skin" for her because I can't wait for her to start blogging. Her handle is of course leahlyons.blogspot.com...I am too lazy to "photo bucket" the screen shot , something Cindy and I comiserated about today, but here is the general idea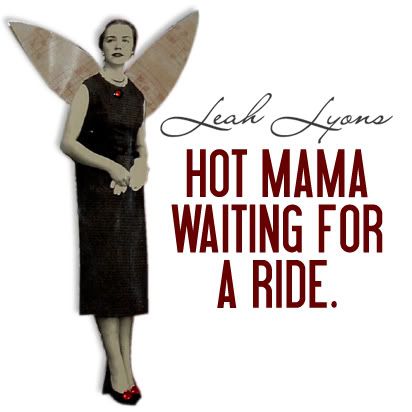 I did a collage a month or two ago and when I was starting her blog skin I downloaded a few images and when I went to open them the thumbnail of the collage popped in the window and a spark went off. The women sorta looks like Leah ( a little) and I thought it matched her pretty well. I called the collage "Hot Mama Waiting for a Ride" and thought that was a cute blog name too.