Since the most hidious job on the universe is FINALLY, FINALLY over I can get back to booties.
I don't know what it is about me that desires all new material everytime I become obsessed with a new project . Booties don't take all that much yarn and I have bucket loads of yarn from about 10 started, never finished knitted projects but I am chompping at the bit to go out and buy new, better yarn. This time I slowed down and forced myself to get through a few hundred yards of what I have before spending a fortune on new stuff. And booties...lots and lots of booties. Here are just a few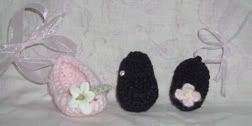 Two are little ballet slippers, and one a very simple mary jane with pearl button...and I am adorning with vintagey flowers ( and crochet flowers and leafs too.
PS. tiny black booties are really, really hard to photograph especially with a 4 second delay Digital! Blurrrrry