I've been meaning to take my camera to the "Goodwill Dump" I live at lately (when I am not working on hideous jobs) to document the bizarre loveliness of it all...but since I forgot you can hear about the silly little treasure I found today instead...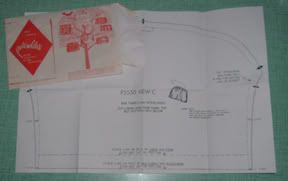 It is a "PurseNalities" pattern (3 purse patterns in all) for a metal clasp style purse..."Enter the wonderful world of pursemaking". Wow, if only I were a good seamstress imagine the wonderful purses I could make...it does appear to proprietary ( like the pursenalities people made the pattern for their p.nalaity clasp) but we will see.
For now I just love that I have it....to file away with all the other vintage patterns I have that I do nothing with.