I took Riley and his friend to see a movie...they had wanted to see "Guess Who" but for some "Amy" reason I looked at the movie time for "Be Cool" at 2:30, so when we get to the theatre they are scratching their heads and "Guess Who" started at 1:50. So now they are going to see a movie they don't even know about AND frankly is not all that appropriate for their age, AND one is not my child, AND I had planned to spend 2 luxurious hours shopping with the Macy's gift certificate Mom and Dad sent for my birthday. Do I error on the side of responsibility and plan to do it another day? Or do I just feign ignorance as to the movie content and send them in anyways?????
So, the first thing I did in Macy's was try on 8 bathing suits. Was I shopping for a bathing suit? NO, but since I am such a thrift store addict (much to my Ann Taylor slash SAX Mother's chagrine) I breeze by the "IN" fashion section and go right to the non-thrift buying type sections, and well hey, I'm curious how these "new" styles look on ( the whole full on the top, flowing on the bottom tankini, which on first blush look super maternity to me) By the way, why do department store bathing suits cost MORE than a f'ing prom dress? $45 for bottoms $60 for tops?
So for reasons explained later, I realize I know nothing about my body size when it comes to under garment bathing suit stuff. Each one I selected my boobs were either ridiculously crunched up together spilling out (definitely not Neighborhood swim club acceptable) or the weight of my bongos pulled the sweet spaghetti strap top down to my belly button (with boob pockets straining to sit in their originally intended position, 2 inches above my aerola). I selected one for the pretty pattern but was SURE, SURE that the 3 inch thick ram rod maidenform built in would make me appear as if I had 40 triple R's. Guess what? It was the best fit...depressing is the realization that at only 35 I must buy a gramma gurtle bathing suit top to look my best. What is that?
My main intention at Macys was to buy a bra (definitely NOT a thrift store purchase when you have pineapples like me, but believe me I would if I could). I recently got
What Not to Wear
from the library by the 2 English women (US has now copied on TLC which I think too cheecky and rude). I studied the under garment section and thought al-righty I will take your suggestion and buy a worthy bra instead of a darling, cute, lacy demi. AFTER the bathing suit experience I was obviously more mentally prepared to shop for a more "useful" bra than a Victoria Secret "come Fuck Me" but JEEEZZZZ...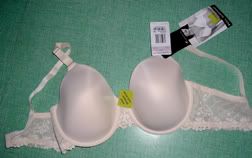 the cups look like FOOTBALL helmets for gods sakes! I ignored all the "pretty" stuff and went straight for the packing section, and saw the "add shape, not size" bras...gulp, do I really fit these???? Short answer, YES. After 2 or 3, one actually fit so well there was no bulging fat coming out of my arm pit! ...36 D.
So I think the test is with shirt on ( like the book demonstrates)....WOW!!!!!! Perk and FORM. BOOB JOB LOOK! Could it be? So I ask the sales lady to take a look and tell me---is this the perfect fit??? She measures...yes good fit, you are like a 36 D or a 34 double d....WHAT? 34????? Words I have never heard in my whole life---34. That's like petite to me! So I race, out to grab a 34 (2xd) and a few 36 d's because the voice in my head (which I most usually ignore) says get the 36's. Long story short the 34 fit, too snug, and the nagging reality is, if I put on a few it will feel and look like a rubber-band stretched around me like 15 times. For the first time I have bought the most unimpressive in the bedroom but shapely and age defying bra ever! Rob knows the truth, the world doesn't need to!
Next stop thongs. Not underwear kind, but feet kind! I wanted some cute, 2" er's , but everyday cheapy thongs. So these, reg. $16 with 25% off worked no?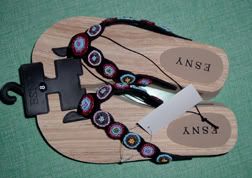 So, after getting my bra and thongs and seeing my neighbor with her poodle "Cupcake"
--(funny side story here, neighbor is a 3rd grade teacher in Roseville, and as we are strolling around Macy's together a group of people approach a little too intrigued with Cupcake. When heavily tatooed dad asks to pet Cupcake with the whole party including little girl, teacher realizes after uncomfortable amount of time that little girl is one of her students, but draws a sudden blank on students name. HEH)----
I am sorta dreaming and wondering about the make up. I am always so visually drawn to
Benefit
and the Benefit catalog. Lauren had gotten me the BeneTINT and I loved it.
So this ultra Benefiter sucks me into a chair with "sit down, lets play". She is the best sales person, because she "GETS" that I do not wear and don't like to apply make up...hey, it could have been an off day. She applied "You Rebel" tinted moisturizer with spf (Can you believe it, moisturizer, foundation and age defing sunblock ALL IN 1---so me), then my coveted BeneTINT and then Moon Beam to my cheek bone up around outer eye (not under eye) ....Whole new me ! Moon Beam has iridescence to it ( sales lady says no glitter ON FACE if over 15) that fakes the appearance of MOISTUIZERIZATION! She said my olive skin did work beautifully with the Benetint. Sale pitch? Even tough I loved it I thought sales pitch, but fair skin Lauren attests (as much as she wished it, didn't work).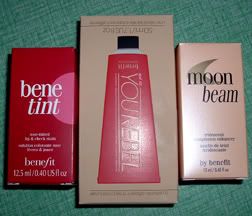 And oh yeah, the boys sorta liked the movie...this old enough to sit and watch a movie alone thing is pretty cool, ...way cool if Mom has a Macy's Gift Card.
PS. the point is everything is a trade off...big boobs can really suck too! They are like entities with heart beats of their own! Imagine breast feeding. It's like 3 seperate beings sucking up all of the same ozone!