On Saturday, Cindy and I went on a trip to the "Goodwill Dump", the Goodwill outlet store (hence, the dump of thrift stores) where clothes and junk are piled, PILED high in rolling bins at $1.39 a pound in a semi-scary neighborhood. I grossed out on the place the first time and left. The time/health risks associated with diving into a skanky bin of clothes seemed like way too much effort for a thrift store. Cindy on the otherhand has a thrift stomach of steel, and so
I was shocked when she came back from that shithole with a pair of Tommy Bahama pants for like a quarter!


After Cindy's brave teeth cut, I have become addicted, sneaking in and out of the house with so many bags stuffed with crap I don't need but only paid $5 for. I strategically place the most outrageous items in the guest bedroom for a while, acclimating them into Robs world, kind of like divers that stay just below the surface for an hour after a deep dive. Doesn't shock the system so. It took about a week or two before he asked who the giant amateur portrait of a Chinese man in a striking blue smock was.
Now Cindy and I are intrigued by the steady crew of "daily's", an interesting bunch of people that appear to live at the Goodwill Dump, and the things they buy. This guy is Mike...I have actually seen bouncing around thrift stores for a few years now...but most frequently at GW Dump...Not a very good picture (he didn't want it ). He usually has a cigar stub cocked to one side of his mouth. Once I saw him leaving with this giant plastic lighted goose/duck, burl wood clock and knarled up broken turquoise rotary phone that he was only buying as a book end or decoration? God, I want to be a fly on the wall and see where/how his "living area" looks? I don't know why but a Quonset hut keeps coming to mind.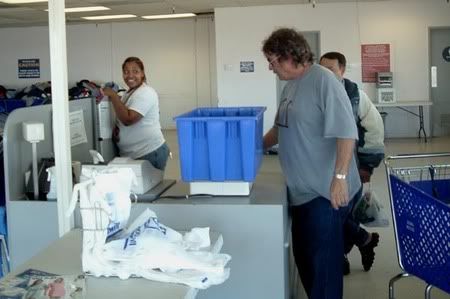 The funniest thing about this place are the "New Bins". The "daily's" linger around for hours, trying to act casual and patient, some impatient, pacing, pacing, pacing around until the workers start replacing the old bins. It's a frenzy and everyone immediately pounce on the "newest" pile of crap pushing and shoving each other, like one guy described as zombies 'neeewwww bbbbiiiiin, nnnneeeewww bbbbiiin".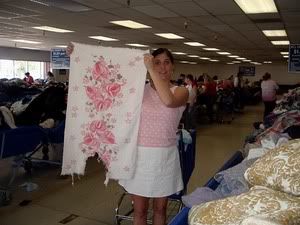 As you can see, we are not very discriminating, as I hold up a "super treasure find", the ratty torn up towel. Cindy found another piece of ratty torn up towel in the same shape missing from this one, alas...turned out it wasn't a match. I had intended to take more pictures, but reverted to my focused scrounge mode and realized picture taking was a pain. I made this picture bigger so you could fully take in all the lovliness of the place (And yes, my guess is yes, it most likely is a diaper on the ground to the left of me). Cindy will say, "hey where's the one of you and the velvet shawl/caplet? It was a hideous picture of me-
no way!

Winding down after a few digging hours, Cindy made the find of the day! The green leather chair and ottoman with tacks and Brueners tag -
for 15$
which most certainly can replace one of the 78 chairs Cindy has stacked Dr. Seuss style in her super posh, delightfully designed abode.
She's saying, "REPLACE, what do you mean REPLACE? It's JOINING Amy, JOINING 78, making it 79 chairs in this super posh, delightfully designed abode"
UPDATE: Rob said glancing over my shoulder while posting this...about the ratty torn towel..."I can't believe people give things like that away thinking someone is actually going to buy it"

I say, "What do you mean, Cindy did buy it"

I'll stop there.