This is the blanket I made Riley's teacher for her surprise baby shower her students planned for her. My photoshopping is a little choppy (the carpet it was photographed on was so bus,y I had to clip some out, and obviously I was too impatient to to do it real clean- sorry)
One parent had the children write the teacher a letter about her baby and mounted them in a book (she teared up, so then I did) ---they were all very sweet and girly or super quick and boyey, then comes Riley.
Dear Mrs.X,
Thanks for teaching me everything I know.
I sure hope you like your baby.
I hope you name Her Riley and then his middle name. Here are some words I used and think you should teach your baby these---"tute the _________(insert baby name here) and "tennis shoe" for tissue. Good luck with this.
A class clown.
Nice huh? Geez, this kid! I hope you LIKE your baby-made spit out my lemon water. --- Cuz if you don't, that would be a big bummer teach!
"You will find tons of fun, outrageous, wild, vivacious and inspirational products here!"
An understatement when considering Canadian artist
Violette
. She is fearless when it comes to her art, both with defining what is or can be art, and most amazing, defining where that art belongs.
One gander at her colorful, spirited, vibrant way of life and there can be little question that this artist is living HUGE. She maintains a
website
that not only hosts a blog, art for sale, but in the spirit of her generous nature a whole bevy of "DIY" tips that inspire one to look at life a little differently, let alone plunge into a "Full Monty" creative lifestyle.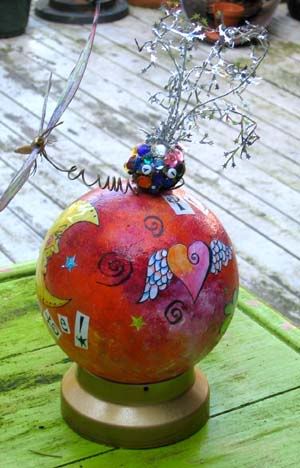 Violette is the first artist to participate in, Creating Buzz, a Q&A of artists, crafters and creative types to get an insight on their inspiration, experience, successes (especially as it pertains to the Internet) and maybe some failure too. The idea is to hear first hand what people are creating, how they got where they are, advice for running an art/creative type business or profession, inspiring and uplifting readers along the way and finally, create a little Bzzzzz.
So lets hear what Violette has to say---
Q: How old were you when you picked up a paintbrush and knew that this would be a way of life?
Well my first remembrance is of drawing comics when I was about 9 years old, you know the Archies- stuff like that (please bear in mind that 'm almost 51---on June 15). Also the Supermodel Twiggy was REALLY HUGE back then and I was able to draw her well. I was a very shy kid so when I received so much attention for my art I knew that I had found my niche---I had found my gift- the gift that made me glow and feel happy.
Q: What was the first piece of art you sold and when did you know you would be successful as an artist?
The first piece of art I sold was a painting of a Mexican girl---I was about 15 years old at the time. A friend of the family bought it and I was pretty proud!
No. I never knew I'd be successful as an artist. My parents did not encourage me since they felt I should just get married and have children. They assumed that artist's starved to death!
Q: What is the most successful method of marketing your work?
I think the most successful marketing method has been to have a website---but also to be in the news a fair bit as well as on TV. I've been on several shows "Weird Homes" Discovery Channel and Life Network, "Head over Wheels", a show about women and their cars, Sue Warden's Creative Decor, HGTV etc. I have become known as an eccentric artist.---not so much for my art but for the manner in which I live, my home, van, lifestyle, manner of dress etc.
I think it's imperative to have a website if you are an artist and want to be seen. It's very easy to give out your business card wherever you are and invite people to check out your art online.
Q: By the way, what is your favorite color?
My favourite colour is orange right now.... It's in my living-room. My favourite colour used to be Purple or Violet---but I eventually got a bit tired of it.---I love it for the outside of my house however!
Q: I always appreciate people that "just go for it". Did you paint every inch of the house shown on you website yourself? And just curious---is it your house?
Yes---the magic cottage belongs to me...can you imagine a landlord letting people do what I've done to my home to a rental??? I've mosaiced special items given to me on the back-splash of the kitchen counter...half teacups, Kermit the Frog, hatpins, ceramic cow head, tiny beer stein, ceramic Aunt Gemmia head etc. I had some help from my Bohemian Tribe (my supportive friends)...they helped me paint it. Their encouragement gave me the courage to do whatever I wanted! For example I have written inspirational sayings on the bathroom wall! I've glittered counters, floors, and walls!
Q: How did you find so many clients interested in having their car painted?
Actually I have only painted my van---no one else's however I do encourage people to paint and embellish their vehicles. Like your clothing or your home I believe that your vehicle is an expression of you!
Q: You have information for licensers of you work, has this been successful and how do you market your work to these types?
Well the Internet has been invaluable in regards to marketing. I will regularly e-mail companies such as scrapbooking, rubberstamping etc. and ask them to check out my licensing page. I have received a few commissions from doing this. Also I have some postcards which I send out to various companies, book publishers, magazines etc. and ask them to check out my website. This is fairly common practise for illustrators I have heard.
Q: As you pointed out, an Internet presence is almost mandatory these days, however, have you been able to SELL a lot of your work on the Internet or has it been a better marketing tool for you?
I don't sell alot of stuff on the Internet---the fault really being my own as I have a whole whack of new items I should be posting but haven't. Having an Internet presence has been great in getting myself known in the industry; inspiring people and generating interest in my work. I believe that my gift is inspiring folks and perhaps the best way to do that is to have an online blog but also to write/illustrate a book. You can't make a living simply by having a blog if no one ever buys anything---I really wish I could do that all day however the reality is that in order to do so I need to make a living. That part has been difficult for me to wrap my head around. Creativity is my forte not marketing.

It is imperative to surround yourself with people who believe in you and your gifts...
I was encouraged to do this by my friends. It felt like finally after all those years I had permission to be ME---that was the most freeing thing that has every happened to me!
However, a good (internet) marketing tool is to get reciprocal links to better your google ranking and also to have new stuff on your site regularly such as a blog---since the search engines are content driven you get a higher ranking if you post new stuff---words---not so much photos or illustrations. My son who is my webmaster told me this---also he told me to do an image search on Google on my name "Violette's art" and I came up with over 117 images. He said the reason being that I have lots of links. Go figure.
Q: Do you have a lot of friends that you meet to "create" with or do they just gasp in awe of you?
I have lots of amazing friends--we create together or just play together. I do have a Creative Group I co-founded last year called ELEVEN...we make things, put on group shows, share resource information and just have fun!
Our next meeting will be a dress-up meeting---where we wear wild clothes and go out and be slightly outrageous.
Q: I noticed you said you were becoming more like your mother (after scrap-booking). Was she a big influence on you? Was your Mom an encouraging influence?
No---I can't honestly say that my mom has been an encouraging influence although these days she is trying her best to be encouraging. If it were up to her I should be painting seascapes or landscapes which would be a deathknell for me. You have to remember that she came from a time where you were supposed to get married, have kids and that's it. There was none of this "trying to find yourself" or "following your bliss". When I said I was becoming more like my mother I meant.---more more---Impatient---wanting to do things quickly.
Q: Who gave you the best business advice? ---and what was it?
I suppose the best advice I've received is from my friends, my Bohemian Tribe who told me to go for it and follow my bliss in terms of my art and decorating the magic cottage.
My kids Jessica and Ryan encouraged me to paint my vehicle since I was an artist. I had thought of it often but never did so because my mom would say "think of the resale value??" She said the same thing about my home too but thankfully I went ahead and did what I wanted to. Also I had a business coach for a while who helped me with my creative goals. For scattered folks such as myself i highly recommend finding a mentor/coach who can help you along your path.

When you speak from your heart creatively you can't go wrong---
Be true to yourself and you'll be happy
I want to say which I believe is very important. It's imperative to surround yourself with people who believe in you and your gifts. My life did not explode with colour and exuberance until I hit 40, went and bought my own little home and did exactly as I pleased. I was encouraged to do this by my friends. It felt like finally after all those years I had permission to be
ME
---that was the most freeing thing that has every happened to me!
Q: Is there any personal advice you would give artists in general?
Whatever you do always listen to your muse and follow your heart. When you speak from your heart creatively you can't go wrong. You are sharing your gifts with the world in only the way YOU can.---no one else---in your own voice. We need your voice in whatever way it manifests. Be true to yourself and you'll be happy.
Cloth Paper Scissors has a fun
Reader Challenge
right now!
art party invitation anyone?
Send us an invitation for your own art party- one you've hosted in the past, one you're planning in the near future, or perhaps the party you've only planned in your head. Put on your party hat and follow the methods used in Traci Bautista's and Cindy O'Leary's articles, or branch out on your own.

details---Use any combination of your own artwork, copyright-free images, fabric, paper, transfers, wire, stitching, beading, and other mixed-media materials and techniques to make an art party invitation that promises laughter, sharing,
the link above also details guidelines and dates! Let me know if you enter your invite, chances are SUPER DUPER slim I will---UPDATE ---I meant will NOT, as I am entrenched in end of the school year hell--mission project, lotta homework---coupled with planning the lamest phenomena known to child and adult kind alike (especially for too old an age child)--- The end of season Sports/Activity party---I know I am mean...but given that I have spent money on signing up, pictures, THE STUPID CANDY FUNDRAISER--ah um, now another 25 on a trophy /party on a team that didn't win all that much, well, I am over it. Remember when trophies meant the winning team kicked ass, and then that made you want to work harder so you could get one of those? I guess I am a little crusty right now. GO TO BED GRACIE!
I stumbled on this
Eichler Netwrok
website devoted to all things Eichler, and found this sub-site like web-article on these funky Eichler like homes built in the Sacramento area by the
Streng Bros.
via a local little news paper,
Inside the City
. Shoo. That was alot of linking.
There are Eichlers built here is Sacramento, very close to my home, and I have always loved their design. The ultra cool look, simple stream lined like living. Personally, I am not sure I would like to live in one, but the design harkens back to that Sinatra, "lovey, be a doll and freshen my martini" time and I very much appreciate the eclectic architecture.
So this was a neat little tale about a couple of visionaries here in Sacramento, who at one time almost teamed up with Joe Eichler. The images are from the website to give you a tiny taste of all there is to learn and see from the site. If you like architecture, I highly reccomend you check it out.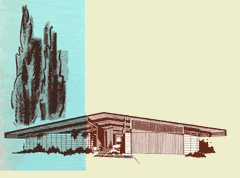 I noticed Seraphein Beyn has had to plaster
NO FREE POSTERS
in like 5 different places on their website due to some typical infinite wisdom on the part of Bob.
Here
Bob advertised the posters he commissions illustrator
Mike Benny
to paint every year of some old baseball great, like this one of Babe...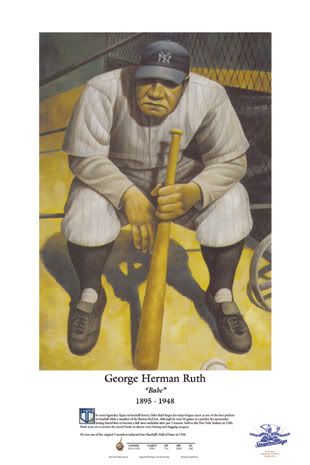 I stopped by the office a few months ago and Bob was having an email explosion (temper tantrum thrown for good mature measure too!) because the websites that cater to scouring the web for free stuff linked to Bob's posters and everybody and their Grandma was emailing for one...every time he checked his email (like every 10 minutes) he had 50 new emails or some such. I asked if there were any legal ramifications, such as ---you say email me for a free poster---aren't you suppose to honor the offer? He felt okay because he had included this bit of sarcasm..."These 22 X 28 "Hard Hitting" posters can be yours free with a large bribe". And since no one had, at that point bribed him he was left to spending the day on email delete duty and scouring the web for free stuffs dot coms to tell them to takes his link down.
All this of course is funny to me because I spent -oh about a week listening to him whimper and whine about his sound and speakers were not working anymore on his computer and would I please come fix it (he couldn't listen to sucky radio spots on the sound guys site) with more whining and fussing until I walked into his office and hit the Sound O.N.O.F.F. oscillator switch on his keyboard (otherwise known as mute on - mute off, to you and me!) I have an even better recent story of Bob testing a new clients website (just to make sure the ecommerce portion was in good working order) that happens to be a place the sells things to enhance romance (wink, wink, nudge, nudge). The retailer promptly called Bob to inform his purchase was on backorder. See Bob doesn't realize that even his new small retail client doesn't employee an amazon like workforce to fulfill web orders. But it begs a question, how do all these tech-tards seem to thrive just ever so better than me?
is to spend time on the phone with Lynda glued to our computers clicking and pouring over cake decorating websites (luck, fortunate, luck.. the beauty of broadband)
Part to prepare for Sweety's website and part because I can't get enough at looking at how beautiful cakes are, and MOST of all, Lynda is fun (we have fun) and sweet herself!
Plus, it fulfills my envious nature of all the food people blog about....did I mention my cupcakes all look like cute-ish big GLOBS of GOO!
"Oh my god, did you see the one, 4 columns over, 10 down?" "Where" "Pollys cakes" "Oh yeah....wow, do you see the dogwood flowers on Fab Cakes" "Where"...you get the picture.
Our new statement... the "TOPSY, TURVY-WHIMSY" cakes are Pass'e!
Um...we're simply statement makers and...well with that, trendsetters, what can I say?
Faith Popcorn
has nothing on us! (YES...... I am being ironic in my self importantance! and DISCLAIMER, Faith's link SUCKS now too, so maybe she is Pass'e too? Arghhh)
Anyways, Can you believe this is a cake?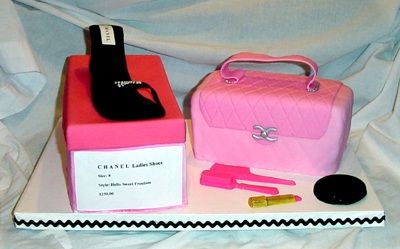 The baker credit is
McNeill Manor
, but of course I will be a loyalist once Sweety's is live.
I am having the hardest time finding peapie/pod green yarn the right weight and composition...in that ...if it is the right weight it is a rough acrylic and... if right color too small a weight....so if one were to DYE a yarn to achieve right color, COTTON would make sense no?
and a little dye?
did I mention, that I had not studied the very talented yarn dyers/spinners or consulted a DIY yarn dying tutorial before faking I knew what I was doing?
I did go to the dollar store to buy a (point) .7 gallon bucket for the job that the packet called for a LARGE 5 Gal Like size (but its' pink...so works for me)
Spaghetti was not the idea (I-E...consult a book or an expert? it is true...that lovely sink you see really is AVACADO!)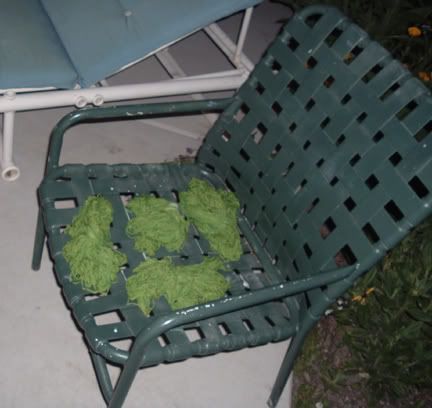 OHHH...CALGON... here is the final pile!
I am not entirely done designing/tweaking
FACTORY DIRECT
my Sell and Trade experiement page (where Cindy will contribute with her vast collection of vintage beauties) but I have my first Trade item up...
The trade idea is...I will put patterns and what-nots up and if someone wants it/them...email me to make the trade!...what to trade? Whatever you want. One of your creations, something you make, vintagey notions, a book...what ever you think is fair! My intention is for it to be as fun for you as it is for me!