I noticed Seraphein Beyn has had to plaster
NO FREE POSTERS
in like 5 different places on their website due to some typical infinite wisdom on the part of Bob.
Here
Bob advertised the posters he commissions illustrator
Mike Benny
to paint every year of some old baseball great, like this one of Babe...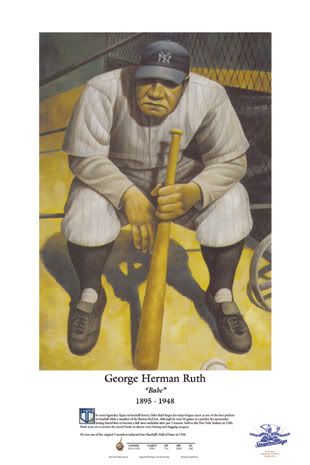 I stopped by the office a few months ago and Bob was having an email explosion (temper tantrum thrown for good mature measure too!) because the websites that cater to scouring the web for free stuff linked to Bob's posters and everybody and their Grandma was emailing for one...every time he checked his email (like every 10 minutes) he had 50 new emails or some such. I asked if there were any legal ramifications, such as ---you say email me for a free poster---aren't you suppose to honor the offer? He felt okay because he had included this bit of sarcasm..."These 22 X 28 "Hard Hitting" posters can be yours free with a large bribe". And since no one had, at that point bribed him he was left to spending the day on email delete duty and scouring the web for free stuffs dot coms to tell them to takes his link down.
All this of course is funny to me because I spent -oh about a week listening to him whimper and whine about his sound and speakers were not working anymore on his computer and would I please come fix it (he couldn't listen to sucky radio spots on the sound guys site) with more whining and fussing until I walked into his office and hit the Sound O.N.O.F.F. oscillator switch on his keyboard (otherwise known as mute on - mute off, to you and me!) I have an even better recent story of Bob testing a new clients website (just to make sure the ecommerce portion was in good working order) that happens to be a place the sells things to enhance romance (wink, wink, nudge, nudge). The retailer promptly called Bob to inform his purchase was on backorder. See Bob doesn't realize that even his new small retail client doesn't employee an amazon like workforce to fulfill web orders. But it begs a question, how do all these tech-tards seem to thrive just ever so better than me?