is to spend time on the phone with Lynda glued to our computers clicking and pouring over cake decorating websites (luck, fortunate, luck.. the beauty of broadband)
Part to prepare for Sweety's website and part because I can't get enough at looking at how beautiful cakes are, and MOST of all, Lynda is fun (we have fun) and sweet herself!
Plus, it fulfills my envious nature of all the food people blog about....did I mention my cupcakes all look like cute-ish big GLOBS of GOO!
"Oh my god, did you see the one, 4 columns over, 10 down?" "Where" "Pollys cakes" "Oh yeah....wow, do you see the dogwood flowers on Fab Cakes" "Where"...you get the picture.
Our new statement... the "TOPSY, TURVY-WHIMSY" cakes are Pass'e!
Um...we're simply statement makers and...well with that, trendsetters, what can I say?
Faith Popcorn
has nothing on us! (YES...... I am being ironic in my self importantance! and DISCLAIMER, Faith's link SUCKS now too, so maybe she is Pass'e too? Arghhh)
Anyways, Can you believe this is a cake?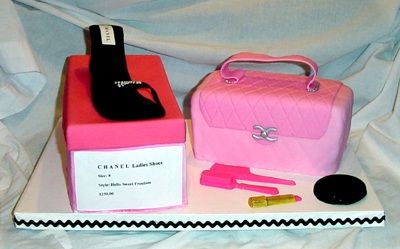 The baker credit is
McNeill Manor
, but of course I will be a loyalist once Sweety's is live.