I am having the hardest time finding peapie/pod green yarn the right weight and composition...in that ...if it is the right weight it is a rough acrylic and... if right color too small a weight....so if one were to DYE a yarn to achieve right color, COTTON would make sense no?
and a little dye?
did I mention, that I had not studied the very talented yarn dyers/spinners or consulted a DIY yarn dying tutorial before faking I knew what I was doing?
I did go to the dollar store to buy a (point) .7 gallon bucket for the job that the packet called for a LARGE 5 Gal Like size (but its' pink...so works for me)
Spaghetti was not the idea (I-E...consult a book or an expert? it is true...that lovely sink you see really is AVACADO!)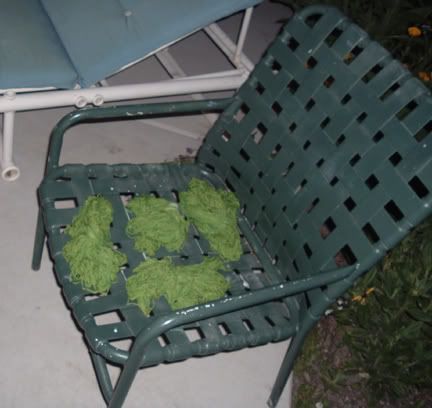 OHHH...CALGON... here is the final pile!