Okay this is crazy
I guess I must be under a web browser rock, cuz my cousin told me to use "fire fox"...
and now there are even more blogger features available to the mac user. Time to look beyond -internet explore--almost embarrased to admit! ahh, the spell check does not work though. Hmmm
BUT BOLD DOES!
---------------P E A P I E S - H O M E / M A I N / R E C E N T ---------------
WOW
I am logged on right now via Safari (I upgraded to panther this week)...so via Safari, I instantly went to blogger page, logged on and easy to post in 10 seconds AND this version allows me to post pictures!!! AND...drumroll please....SPELL CHECK! Amazing. I am so stoked.
So I am testing out the image upload, which blogger host? Neat. This should be a picture of my Gramma (who I ADORE)
UPDATE: Now that I can see the picture, it is also of my brother and sister-in-law and aunt too. So super cool.
---------------P E A P I E S - H O M E / M A I N / R E C E N T ---------------
radio silence
I am now preparing to take a shower and wash off my 4 day stint at
Seraphein Beyn Ads
. Whoo...a whole lotta work (there's plus mine). Bob, the goober, was in a state over a client in "constant edit" mode which is not a good way to be because your are about a hair away from telling your bread butterer to sit and spin. I have to admit I did have fun and sorta missed the old grump. To give you an idea of how delicate Bob can be...about ten minutes after the super hip, of asian decent, intern quietly arrived and tucked herself in the back room, Bob came in to me and loudly asked...:"where's our little asian slave?"...um Bob she is in the room next door...insert image of Bob's size 13 Converse entering his mouth.
Had fun with Mike and lunch at a hip little beach deli that opened up, run by a local radio personality...i.e. anyone whose anyone under 30 was there. This afternoon, Mike and I took a drink and smoke break. He set his cigar on a newspaper stand and left me outside to guard it while he went in to buy diet cokes. I started meandering around a little, looking at all the sweet little Victorians (one in particular--cuuttee) and when he came out I heard a 'OH great, thanks". I look over to see Mike bending down to retrieve his cigar that fell off the newspaper stand and rolled a good 6 feet. Ooopps ( I laughed), then I thought ---what's the big deal in my head. As we go walking along just a few steps i see a partial dog poop on the sidewalk...oh...whatever.
Went to lunch with Scott and Bob at the greasy spoon because the night before Scott (sorta loves to eat - wink, wink, nudge, nudge) watched a documentary about pancakes (origin, other countries use, every imaginable variation) the night before. Bob and I were slightly mortified (wow, something ruffled Bob's sensibilities!) when he grumbled to the waitress for a butter tub or a bowl of butter balls, rather than have to unwrap each individual butter pat she served him.
all and all, a typical week at Sera Beyn.Shoo... Now I'm just looking forward to sleeping in again.
---------------P E A P I E S - H O M E / M A I N / R E C E N T ---------------
ah...what fun
and impromptu dinner party can be! After an exhilarating shopping afternoon at my neighborhood market on Friday at
The Nugget
(it is a place I pinch myself that I have to shop at ...only a few blocks away on gourmet days, and a place that I curse that is so close when I have to REALLY shop for a household---if you know what I mean...NOT cheap) because I plopped Riley at the Cyber Cafe next store, to buy all the needs for my Donna Hay cooking weekend, I strolled over to the Campbell's' (the best neighbors in the world) and thought ---Hey, do you guys want to come over for dinner? Yeah, sure...can we invite Patty and Ted (cuz Roberta Campbell had pre-planned with Patty and Ted to get together) Yeah sure, too.
Roberta just stepped right up ( in her typical efficient fashion) and helped me to execute 3 Donna Hay recipes...the caramelized pear and rocket salad (i mentioned earlier---here is mine. Obviously I am not as adept at food styling, otherwise I would not have had half the salad sliding off the plate)...
For the main course we prepared the "quick flat roasted chickens", and a "me" recipe--pureed cauliflower with parmesan filled bell pepper cups...here is the chicken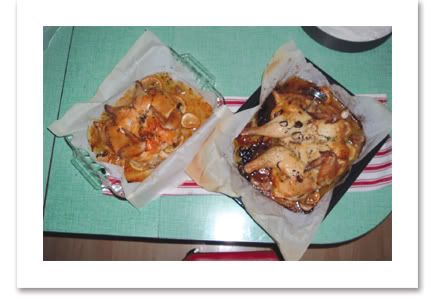 Dinner is served here. Roberta looks so dang cute and her peppy attitude is fully captured, Ted, the super studier is off to the left (drat no good pictures of Patty's super chi chi haircut that is so her!)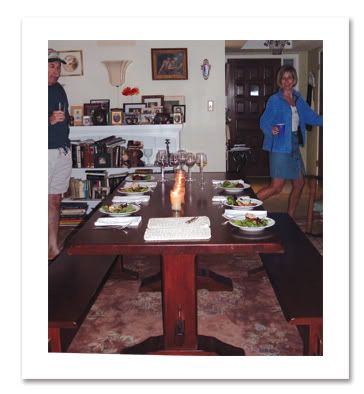 then we all "retired" to the backyard for dessert, the
"Caramel Banana Tarte Tatin"
and fun with cloths pins (whodda thunk they would be such fun party favors, probably wouldn't with NO wine huh?)
Everthing tasted fabulous! To me the pear salad was out of this world.Chicken was very moist and juicy, and the banana dessrt was impressive and wonderful too. I MUST HAVE THIS COOKBOOK, is all I have to say!
---------------P E A P I E S - H O M E / M A I N / R E C E N T ---------------
On the menu this weekend...
Donna Hays'
"Caramelized Pear and Rocket Salad"
from her new(est) cook book,
The Instant Cook
. Actually I am using 4 or her recipes this weekend but this is the one that I can't stop thinking about...YUM. This is the one of the first cookbooks I have gotten from the library that I HAVE TO HAVE. Every recipe is so tres chic, but does not require the 3 days for shopping at specialty stores and 20 obscure and very exspensive "one use" ingredients that Marthas' do. Roberta came by tonight and she recalled that it took a friend of hers 3 DAYS to make the ice cream cookies! I see now on the check out stand that Martha is ripping off Hay with "everyday cooking" too.

Caramelized Pear and Rocket Salad
60g (2 oz) butter
3 tablespoons white wine vinegar
1 tablespoon brown sugar
2 firm brown pears, quartered and cored
1/2 cup walnuts
100g (3 1/2 oz) rocket (arugula) leaves
150g (5 oz) soft blue cheese, sliced
Place the butter, vinegar and sugar in a frying pan over medium heat. Add the pear and walnuts and cook for 4 minutes or until the pear is just soft. Place the rocket on serving plates and top with pear and walnuts. Spoon over pan juices and top with blur cheese.
---------------P E A P I E S - H O M E / M A I N / R E C E N T ---------------
Z-Boyz Mini Review
Now I have crushes on ALL the scraggly skaters from the seventies after seeing
Lords of Dogtown
last night. The documentary,
Z Boys and Dogtown
, was very interesting, and I came away from that with a major crush on Jay Adams, the bad-ass/bad boy punk one (doin' time for drug charges-natch) who was the naturally talented one that didn't get the accolades he deserved. The movie was great actually. It did a good job of telling an out of the blue story of these kids that started the skateboarding swimming pool craze, with lots of character. AND Heath Ledger was really EXCELLENT as the surf board shaper skate team sponsor and the only noticable star in the movie (besides Rebecca DeMornay who did a great spaced out party mom with soul). I recommend the 9.50 (and I usually don't, so there you go!)
---------------P E A P I E S - H O M E / M A I N / R E C E N T ---------------
Baby Cakes
I am in love with sweets pin cushions (ie, the cupcake that looks like a muffing) so I tried my hand at a cake pin cushion, (like someone did I think on craftster) Any ways here it is, a little bobb-lee...but I like it fine.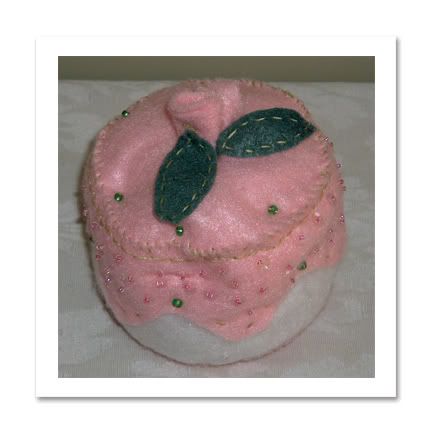 ---------------P E A P I E S - H O M E / M A I N / R E C E N T ---------------
What People do...Sugar Sculptures
Came across this interesting art form...
Sugar Sculptures
. The intricacy is amazing...
This one looks good enough to live in!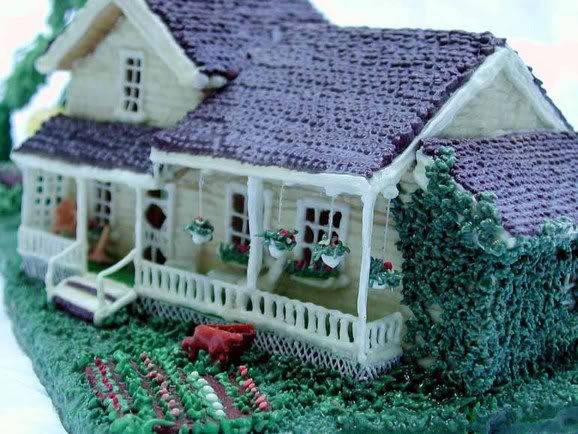 ---------------P E A P I E S - H O M E / M A I N / R E C E N T ---------------
New Family Member
Can you believe this? Say HELLO to
Baby C!
My Cousin sent me a video sonogram ( I am sure that I am not introducing this properly---and he will tell me---so expect an update at some point) but I was just blown away at how amazing this is. I am sure that to all "preger-moms" POST---1994---this is old news,---but to me, WOW. I am supremely happy for Shannen and Jacob (my cousin) and brother O-.
I am also super impressed in Jacob's foresight in editing the video itself! He is obviously a Computation Stud!
---------------P E A P I E S - H O M E / M A I N / R E C E N T ---------------
Cake Walk
Colette
was kind enough to let me post one of her cakes here. While ALL of her cakes are amazing, I thought this one was especially fun and crafty---don't ya think?
and this one is beyond wonderful and creative thought...Counting Sheep? How does she come up with this stuff?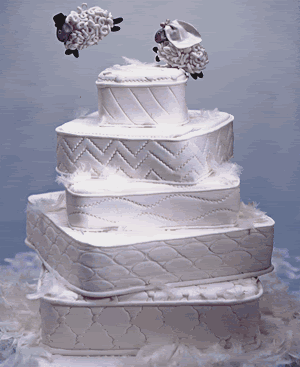 ---------------P E A P I E S - H O M E / M A I N / R E C E N T ---------------
Illustration Friday: Summer
One lucky part in my life is that I am the sole (maybe?) human being that
LOVES ORANGE
popsicles! So obviously there are extra for me!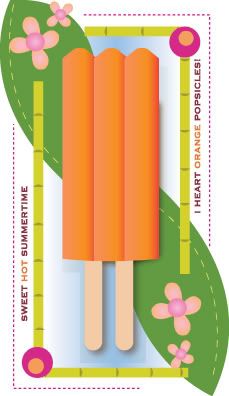 ---------------P E A P I E S - H O M E / M A I N / R E C E N T ---------------
June is fun...
because little league is over! So this is my cupcake pincushion...I know it looks more like a muffin, but I love the colors so much I can't ditch it.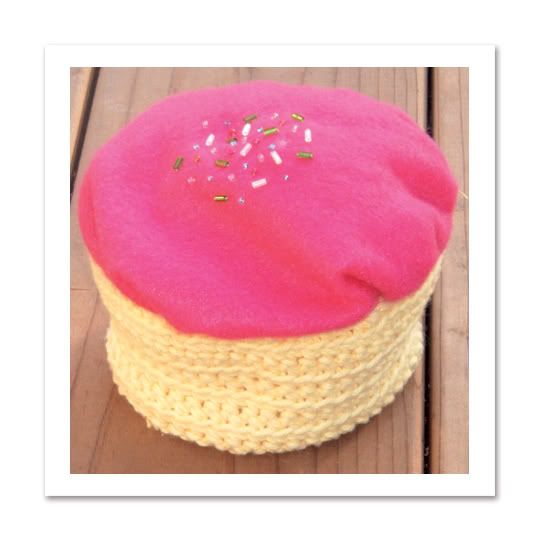 and June is fun because hydrangeas are blooming. I have 3 white bushes because the flowers bowl be over in a vase.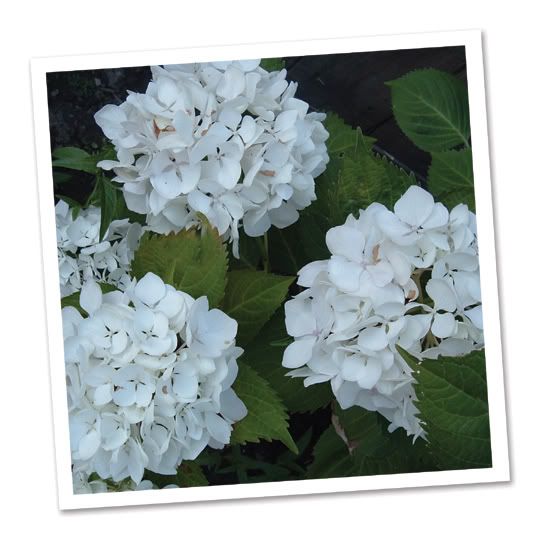 and here is hydrangea sepia toned...pretty enough to frame.
---------------P E A P I E S - H O M E / M A I N / R E C E N T ---------------
the love of my life
Ever since this guy came back from his weekend in Arnold he has been strummin' "smoke on the water"...he is such a sweetie, so nice. Returning he said he wanted HOT DOGS for dinner (believe it or not a delicacy here) and I related no buns. I could run to the store for some? No mom, that's okay. Oh, in the freezer, some French roll "like" buns? Sure mom. Later, I holler---Mustard and Ketchup???
Yes Please, mom
Lemonade too!
oh yes please mom!
and the politeness keeps going. He is so sweet and thoughtful and considerate of me. I don't know how I got so lucky.
---------------P E A P I E S - H O M E / M A I N / R E C E N T ---------------
Back Tack Incoming!
Received my secret pal,
Back Tack
Incoming package yesterday (Thank you secret pal!---fun, fun, fun) It is perfect for the pattern I got last weekend for the knitting needle case. Although it doesn't call for a zipper (which secret pal sent)
Here is the
pattern
. I made the crochet case at Grandmas (when i get my pix back I am blogging about precious 96 year old grandma visit- forgot digital) for practice so receiving secret pal will not be totally disappointed. It (crochet case) turned out pretty good, so knit case should have the benefit of a trial run. Cross your fingers for me.
Rhetorical question---Patterns are ridiculously priced (this one originally 15.95) but are pretty standardly always 50 to 40% off as a rule. Why? Why not just print the 1/2 off price if no store charges the full price anyway? I can think of no other product (off hand at least) that does this. Useless wonderment... go about your day.
---------------P E A P I E S - H O M E / M A I N / R E C E N T ---------------