and impromptu dinner party can be! After an exhilarating shopping afternoon at my neighborhood market on Friday at
The Nugget
(it is a place I pinch myself that I have to shop at ...only a few blocks away on gourmet days, and a place that I curse that is so close when I have to REALLY shop for a household---if you know what I mean...NOT cheap) because I plopped Riley at the Cyber Cafe next store, to buy all the needs for my Donna Hay cooking weekend, I strolled over to the Campbell's' (the best neighbors in the world) and thought ---Hey, do you guys want to come over for dinner? Yeah, sure...can we invite Patty and Ted (cuz Roberta Campbell had pre-planned with Patty and Ted to get together) Yeah sure, too.
Roberta just stepped right up ( in her typical efficient fashion) and helped me to execute 3 Donna Hay recipes...the caramelized pear and rocket salad (i mentioned earlier---here is mine. Obviously I am not as adept at food styling, otherwise I would not have had half the salad sliding off the plate)...
For the main course we prepared the "quick flat roasted chickens", and a "me" recipe--pureed cauliflower with parmesan filled bell pepper cups...here is the chicken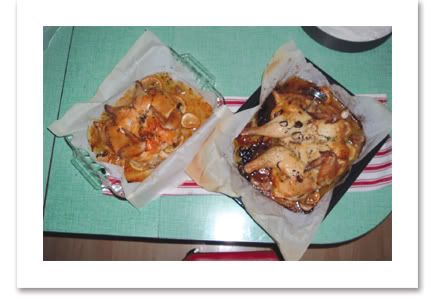 Dinner is served here. Roberta looks so dang cute and her peppy attitude is fully captured, Ted, the super studier is off to the left (drat no good pictures of Patty's super chi chi haircut that is so her!)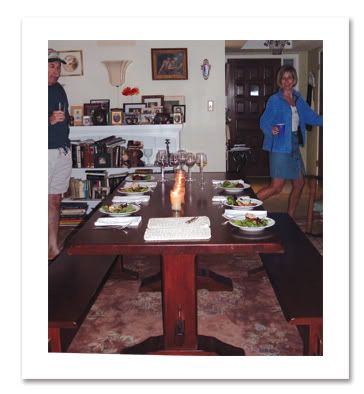 then we all "retired" to the backyard for dessert, the
"Caramel Banana Tarte Tatin"
and fun with cloths pins (whodda thunk they would be such fun party favors, probably wouldn't with NO wine huh?)
Everthing tasted fabulous! To me the pear salad was out of this world.Chicken was very moist and juicy, and the banana dessrt was impressive and wonderful too. I MUST HAVE THIS COOKBOOK, is all I have to say!